Car industry faces blame in EU's battle against air pollution
Comments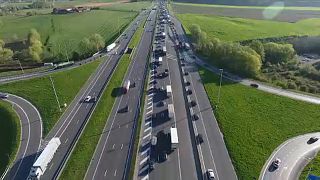 Air pollution has long been identified as a problem plaguing cities around the world.
But cutting it has been slowed down by a lack of political drive to bring in more sustainable forms of transport, says one recent China, US study.
In Europe, there's a push for the car industry to be confronted.
"Often times, governments help the car industry. Now we discovered that throughout the Dieselgate and we keep discovering how the car industry has, for decades, just lied. And now we keep discovering new lies," said Nicola da Schio, an urban development researcher at the VUB University.
"I think that the car industry is among the big actors that are preventing us from solving the problem."
In May, the European Commission put forward proposals for improving air quality standards - tackling a range of sources, from vehicles and ships to energy production.
It also stepped up legal measures against seven member states, stretching from the UK and France across to Hungary and Romania.
Some got formal letters, others were referred to the EU Court of Justice over respect for air quality limits and rules around vehicle types.