'Threats are useless' - Brussels rejects Italy's migration ultimatum
Comments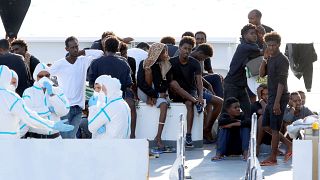 A final ultimatum that's falling on deaf ears in Brussels.
The European Commission's rejected a threat from Italy to withold next year's contributions to the EU budget - if Brussels doesn't resolve the standoff over immigrants stranded on the Diciotti boat, in the Sicilian port of Catania.
"In Europe threats are useless, they don't take you anywhere. The only way to solve problems in Europe is to work together constructively and with good will," said Alexander Winterstein, European Commission spokesperson. 
"It is not about the Commission against someone else, it is the member states that have to find a solution and obviously the Commission as always is there to help."
Italy's been on the frontline of Europe's refugee crisis, but numbers have fallen dramatically this year.
A pledge to further cut arrivals has been an election campaign winner.
Sharing deals have been reached for ships carrying rescued migrants to Italy and Malta, but they're in doubt.
"We are facing all the time a raft of technical solutions that make sense on paper but without the political will and political vision to implement something that is really effective," said Alfred Sant, a Maltese MEP.
"Ok, we have a lot of nice proposals technical proposals but then they stay on paper."
Meanwhile, Belgium's immigration minister has said that none of the stranded migrants should be taken in by his country.