Belgian coast guard plane 'sniffs' out air pollution
Comments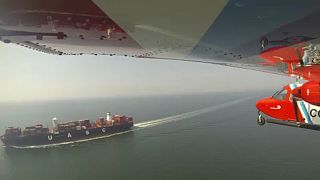 Amid all the talk of climate change, Belgium is helping to lead the way in the detection of air pollution. 
A Coast Guard plane is kitted out with cutting-edge technology which 'sniffs' emissions from ships.
"So this is the sniffer sensor, it's located in the back of the pilot. It sucks in air from a probe that is located in the bottom of the aircraft," explained aerial operator Ward Van Roy, showing the technology on the plane.
"And the sensor itself measures constantly carbon dioxide and sulphur dioxide. And, based on the ratio of the two, we can calculate the fuel sulphur content."
Euronews joined the team on a 'sniffing' mission off the Belgian coast. Taking off from Ostend, it doesn't take long before reaching one of the busiest shipping channels in the world.
Reporting from onboard the plane, Euronews' Damon Embling said: "In the first half of this year, smoke plumes of 785 ships were checked out by this hi-tech plane - and 48 of those were identified as having suspect sulphur emissions. Offenders can face prosecution and huge fines."
The air pollution surveillance work is attracting interest beyond the EU.
"Together with Denmark, we're the only ones for the time being in Europe doing this type of sniffer flights. And, worldwide, this is actually attracting a lot of interest. From Canada, for example, from China as well because we are the first doing this," said Ronny Schallier, head of the aerial surveillance team.
The crew is now looking to expand its work, to test for nitrogen emissions - with stricter standards from 2021.