How more US-bound steel is leaving key EU port despite trade dispute
Comments
By Bryan Carter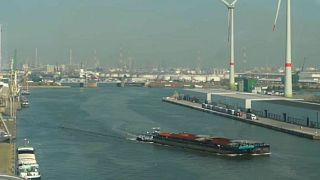 The port of Antwerp in Belgium is one of the largest ports in Europe. Millions of tonnes of cargo transit there each year and its key trading partner is, by far, the United States.
Half of all EU steel exports to the US are shipped from Antwerp's docks.
The decision made in June by Donald Trump to impose a 25% tariff on steel imports had a lot of people worried here.
Wim Dillen, a port manager, told Euronews that these tariffs have so far had unexpected consequences.
"Quite surprisingly perhaps, we have exported more steel in the first six months of this year than we did in the first six months of last year. But I think that has to do a lot with companies anticipating what is going to come and filling their stocks in the US. But if this would last for a long time, I think it will become very negative indeed."
Thousands of tonnes of steel coming from all over Europe are stored in the port of Antwerp, waiting for a ship to carry them to the US.
According to port authorities, Antwerp has gained an expertise in handling high-end products, which makes it an ideal partner for American industries.
"We are storing the coils going to the US, Canada, and Mexican markets," said Dennis Verbeeck, the general dock manager at PSA Breakbulk. "At this terminal, we handle about one million, or over one million tonnes a year, all for those destinations."
Ships dock in Antwerp for four or five days, time for each to load more than 100,000 tonnes of coil which will then set sail for the United States.
It is a hard job. But dock workers are very often proud of their work, even though their livelihoods depend on the upheavals of global trade.
According to Verbeeck: "On a daily basis there are between 150 and 400 people working here, directly handling the steel products for the US. And you know with all these kinds of import duties, or hamperings like we might call them here, that might affect those guys. That might affect those people and those families."
Antwerp's dock workers are not the only ones closely observing the trade negotiations between the US and the EU. According to a steel sector representative, 20,000 jobs across Europe directly depend on steel exports to the US.