Top EU court rejects Nestle's bid to trademark the shape of its four-fingered Kit Kat
Comments
By Chris Harris & Alice Tidey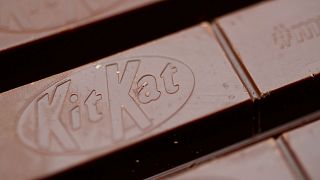 Chocolate giant Nestlé has today lost a long-running bid to trademark the shape of its four-fingered Kit Kat.
Nestlé initially applied to the European Union Intellectual Property Office (EUIPO) to register the shape of its Kit Kat bar as a trademark in 2002, which was granted in 2006.
But rival company Cadbury Sweppes (now owned by Mondelez International) filed an application seeking to invalidate the registration in 2007, launching a 10-year legal battle in the process.
Mondelez also owns Freia, a Norwegian sweets manufacturing company, which launched a similar four-fingered waffer covered with milk chocolate, Kvikk Lunsj, in 1937.
Nestlé's version was first manufactured in 1935 in York, England. It was re-branded as Kit Kat two years later and started being exported internationally in the 1950s.
'Distinctive character'
A 2016 General Court ruling found in favour of Mondelez and annulled the EUIPO's decision arguing that the shape had not acquired a "distinctive character" throughout the whole of the EU.
Both Nestlé and Mondelez appealed the ruling. Nestlé argued that proving the bar had a distinctive character in all EU member states was too high a threshold, while Mondelez disputed the fact that Nestlé's Kit Kat had distinctive character in 10 countries.
On Wednesday, the European Court of Justice (ECJ) upheld the General Court's judgment that "the acquisition of distinctive character by a mark that was initially devoid of inherent distinctive character must be shown thoughout the EU, and not only in a substantial part of the territory of the EU."
'Today's judgement is not final'
Mondelez welcomed the ECJ's ruling in a statement emailed to Euronews.
"As previously noted, our contention is that the shape of the Kit Kat bar should not be protected as a trade mark throughout the European Union," the statement said.
"We are pleased that the decision of the European Court of Justice supports our position," it added.
Nestlé, however, disputed the ruling, saying in a statement that "the evidence proves that the familiar shape of our iconic four finger KitKat is distinctive enough to be registered as an EU Trademark.
"Today's judgment is not final and concludes that the distinctiveness of a trademark (in this case, the shape of our four finger KitKat) does not need to be established in each and every EU country but rather globally in the EU using a variety of evidence," it added.
The company said the case will now be sent to the EU Board of Appeal "to examine the evidence that Nestlé has filed."