Does Trump want to strike trade deal with EU's Juncker?
Comments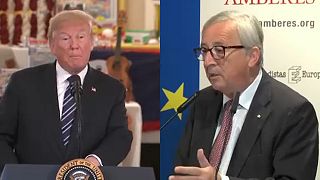 Amid turbulent, transatlantic trade relations, sparked by US tariffs on EU steel and aluminium, EU Commission President Jean-Claude Juncker will try and calm things down in Washington.
But Juncker, who last week signed a new economic agreement with Japan, is not expected to make a specific trade offer as he meets Donald Trump.
No deal?
"I think Trump isn't looking to make a deal," Sam Lowe, a Senior Research Fellow at the Centre for European Reform, told Euronews.
"I think he's just enjoying increasing the uncertainty in the hope that it brings jobs back, specifically for his constituents and those people he promised would see jobs in the future. But, hopefully, it could lead to the conversation between the EU and the US, the heat being taken out of it slightly and perhaps a de-escalation. But, as I said, I'm not very optimistic."
Made in America
This as Trump threatens to extend tariffs to European cars. The president's repeatedly slammed the EU - highlighting higher duties on vehicle imports and describing the bloc as a "foe" in trade.
And, ahead of Juncker's arrival, Trump's been in full "made in America" mode - flaunting US-made products. He said, again, that Washington will no longer put up with bad trade deals.
"That's not free trade, that's fool's trade, that's stupid trade and we don't do that kind of trade anymore," stressed Trump.
And the other Donald - the EU Council's Donald Tusk - has also been vocal, on social media. Including words to reassure: America and the EU are "best friends" and saying all the talk of "foes" is fake news.
Car tariffs: 'huge impacts'
But for businesses caught up in the trade spat, there's lots at stake.
"Trade relations are not good, we're not in a good place with the whole external environment. So I think this really shows that if this is a good meeting then we can again move onto a positive track," explained Susan Danger, CEO of the American Chamber of Commerce to the EU.
"There's not significant impact yet, enough to have a change, to force change, no pain, no change. However, we are extremely concerned about the threat of automotive tariffs. That will have huge impacts and there we are already seeing an impact before they've even been introduced."
Hitting back at America, the EU's already imposed its own import tariffs on US products - from motorbikes to bourbon. And it's planning more if Trump hits European cars too.
If she had the chance to sit down in front of the US president, Susan Danger said she will tell him: "President Trump, we're allies. We've been allies for 70 years. We need each other. We're strong economies. And the US does well if the EU does well."
But with Trump expecting Juncker to come to Washington with a "significant" offer - and Brussels saying that won't happen - the outcome of this meeting is too tricky to call.