EU slaps record €4.3bn fine on Google
Comments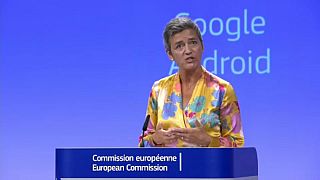 The EU has slapped a record 4.34 billion euro fine on Google in an antitrust decision for using the dominance of its Android operating system to favour its own search engine. 
But the EU's competition czar Margrethe Vestager rejected criticism that the fine was too high.
"Using our standard methods the fine is bigger, because the effect of the infringement is bigger, and it is exactly a reflection of that," she said.
"It is a very serious infringement. It's a very serious illegal behaviour," Ms Vestage added.
Rebuke to Trump?
The Commission's decision to penalise the American tech giant comes at a time when EU-US trade relations are at a low. 
President Trump recently accused Commisioner Vestager of being a "tax lady" who "really hates the USA". 
But she hit back at claims there was any political motivation.
"I do work with tax and I am a woman so this is 100 percent correct," she said. 
But, she added, "This has nothing to do with how I feel. Nothing whatsoever. Just as well as enforcing competition law, well, we do it in the world, but we don't do it in the political context."
What comes next for Google?
Google has 90 days to respond or face additional charges of up to 5 percent of its average daily worldwide revenue, but the company plans to appeal the decision.
Sundar Pichai, Google's CEO, said: "We are concerned that today's decision will upset the careful balance of the Android ecosystem. We believe we have a strong case for benefits that Android has brought to the European marketplace as well as globally and this is why we intend to appeal."
Will it help consumers?
The EU says Google has stifled competition among search engines by forcing smartphone makers to pre-install Google apps Chrome and Search. 
Consumer groups say that getting Google to stop doing this will help stimulate a greater variety of search engine products.
Agustín Reyna of European Consumer Organisation (BEUC) told Euronews that the move will result in "more diversity".
Mr Reyna said: "Every time that you find Android phones, we can expect to find different search engines and browsers. For example, now out there are other competitors DuckDuckGo or Qwant that find it very difficult to enter the market because of these specific practices that Google is employing through Android to have Google search on the phone."
The EU's unprecedented fine - and the threat that it could even be increased - is being seen as a signal that they are ready to stand up to tech firms at a time of increased public concern about their dominance.