FYROM: "We could be a target for Russia"
Comments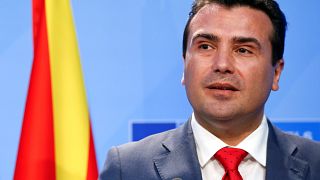 Efi Koutsokosta/Euronews:
Prime Minister many thanks for being with us and welcome to euronews. This is a big day for you. And that's because NATO is finally going to invite your country formally to join the Alliance but of course under the condition that it will adopt the agreement recently made with Greece. What does this mean for you and your people?
Zoran Zaev/ FYROM's Prime Minister:
The big disappointment in NATO came in 2008. We learnt a lot. Now we are extra happy because now finally we have invitation from NATO to start accession dialogue, normally that can be in parallel because through the accession dialogue we need few months and we will use these few months in parallel to fulfill expectations from the agreement (with Greece)because we have referendum, we plan to do that end of September, beginning of October and after that Constitutional change. If everything is finished, greek parliament needs to vote in January. January is a target date for signing protocol and starting ratification process in the member countries of NATO.
Efi Koutsokosta/Euronews:
However, even if you win the referendum there is one factor in your country, as far as I know, the President who recently said clearly that even if you win the referendum he is not going to sign this agreement. What does this mean for the whole process?
Zoran Zaev/ FYROM's Prime Minister:
My information, what the President says in our media and officially, that he refused to sign the ratification of the law for agreement. But we'll support the will of the citizens. That means if the referendum has a positive approach, he will sign but this is technical aspect from the signature of the president of the country. Why? Because by our constitution, if the parliament votes some issues some law, the president has the right to refuse it. But after second voting, because after that the Parliament must second vote for the same law it's obligation for the President to sign. He invented some kind of pocket veto. It's not understandable at the moment but I know there can be solution with that, especially I hope it will be in favour of the decision of our citizens.
Efi Koutsokosta/Euronews:
As we talk about scenarios as we have all this long process ahead, let's assume that everything goes well in your country and the agreement gets approved. Then we go to Greece. And there is also a part of this government and I don't speak about Tsipras but his coalition partner that he is against this agreement. Do you have the feeling or the impression that this agreeement and the future of your country and the EU process depends on this government?
Zoran Zaev/ FYROM's Prime Minister:
Even these identity issues are covered. There is very precise and smooth way how to solve identity issues. In article 7, point 2 and point 3, we seperate Greek Macedonians with our Macedonians. In avery positive way we will make a bridge for us and the future cooperation. Because they react only for that. They get it erga omnes for all uses. After the agreement and all implementation will be Republic of North Macedonia for all international organisations, in all bilateral communications and with all 193 members of United Nations but also for home use after the consitutional change. Everybody know that. And I think there is no substance of reaction on that. And I think not the politicians but citizens, Macedonians and Greeks will find solutions even without Zaev and Tsipras because the solution must be only to build a friendship. We saw what means the existing of this problem 26 years. I believe very much that if something collapses, I know, I believe it won't happen that kind of scenario. But if it happens I think there will be new politicians who will start from where we are and will make a bridge and solution.
Efi Koutsokosta/Euronews:
There is another factor, more global let's say. Do you worry for any Russian disruptions towards all this way to referendum or the whole process? Because Russia has interests in the region and we heard a lot of officials, Russian officials saying that they are against your country's accession to NATO, especially to NATO.
Zoran Zaev/ FYROM's Prime Minister:
It has nothing to do with european integration with our country but they are against officially even the integration of the Republic of Macedonia in NATO. And I know because of international debate. We want to be part of NATO, not to attack somebody or threat somebody to share these values of peace. We are participating in Afghanistan, in Bosnia, we are even fourth range country per capita in the mission in Afghanistan. We increase our budget and we have plans how to reach 2 per cent for example. But everything we focus is how we substantially keep peace and how we are part of these missions to keep peace. Maybe we can be some kind of target of Russia I don't know but our citizens more than 80 per cent are in favour of NATO, government, the opposition are in favour of NATO. That is process that is not stoppable. And we will continue in that direction repeating that we only have a friendship with Russia. We saw some kind of involvement in the process, probably they have some kind of rights, what is legally binding by the international agreements. Of course we will not allow more than what is possible by the international law agreements and international law but of course I send always message that we are small friendly country and we want to build friendship.