MEPs join interpreters in strike action
Comments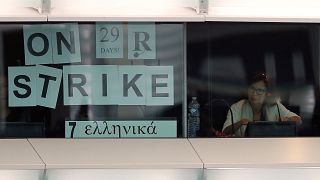 The European parliament plenary has been hit by a translation strike.
Some MEPs showed solidarity with the interpreters protest by obstructing the technical cabin and turning off microphones*. It came as the Bulgarian leader Boyko Borisov prepared his final speech before politicians as outgoing head of the European Council.
Commission president Jean-Claude Juncker expressed his dismay saying that the chamber would not have behaved in the same way had the German Chancellor been present, adding "This is not normal. Full stop."
It is just one of a series of planned strikes to take place this week after dialogue broke down with the parliament's administration over working conditions.
*This article has been amended to elaborate on 'repair work to microphones' to reflect that MEPs entered technical cabin.