Brussels launches fresh legal action against Warsaw
Comments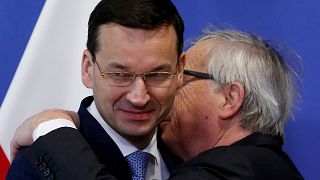 Brussels is launching fresh legal action against Warsaw over its controversial overhaul of the Supreme Court. An overhaul the EU fears will further undermine judicial independence.
"Given the lack of progress and the imminent implementation of the new retirement regime for Supreme Court judges the Commission decided today to launch the infringement procedure as a matter of urgency," explained Margaritis Schinas, a European Commission spokesperson.
"At the same time the European Commission stands ready to continue the ongoing rule of law dialogue with Poland which remains the Commission's preferred channel for resolving the systemic threat to rule of law in Poland."
Poland's got a month to respond, which means the procedure won't stop the changes coming into force on Tuesday.
Warsaw says its controversial reforms are needed to update a system which dates back to communist times.