How the most modern waste treatment centre changed Slovenia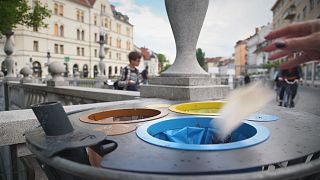 The RCERO waste treatment centre in the Slovenian capital is the most modern and one of the largest in Europe. It handles the waste of 58 municipalities.
More than 170.000 tons of waste is treated there every year, whether it is biodegradable or not. Up to 98% is recycled into objects, compost or fuel - thanks to the biofuel produced by the fermentation of the compost. In addition, the centre is self-sufficient in terms of energy. The project is supported by the EU Cohesion Policy to the tune of €155m including €77.5 million financed by EU Cohesion Funds.
Let's hear from Edita about how this plant has changed her life.
"My name is Edita Sabic, I'm a student who lives in Ljubljana, and I've been separating waste for the past 10 years. Ever since the waste plant opened up, a lot has changed in my life. I've been working there quite often."
Edita works at the plant four times a month as a guide. She shows students and visitors around the site, who typically come from the European Union, the Middle East and North Africa. In just two years the waste centre has changed the way Slovenians recycle their rubbish.
Sabic says: "At first people were like: 'why should we separate waste? It's not our job. We don't get paid for it; we already pay for the services already.' But then, about a year or two, they embraced the concept and now it's like second nature and when they go outside and when they see that people don't separate waste, they find it very strange."
The treatment centre offers free compost for the maintenance of the city's green spaces.
In the capital's Tivoli Park between 80 and 100 cubic meters of compost are used every year.
Tanja Karner, a foreman at Snagan says: "I have the feeling that the circle is complete, and even if we produce waste, we can find ways to re-use it, like here with the compost, and we reduce the cost to maintain the plants."
More than 800.000 people, nearly half of the country's population, benefit from this centre, a model for Europe.