Asylum applications in the EU fell by 44% in 2017
Comments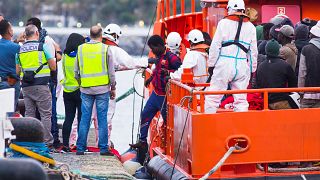 -
Despite the ongoing drama in the Mediterranean over how to deal with the flow of migrants into Europe, there are signs that the numbers are falling.
Applications for asylum in the European Union fell by 44 percent in 2017, according to the latest figures. This is the second year in a row that pressure on Europe's external border has decreased.
Syria remains the biggest source of asylum applications at 15%, followed by Iraq and Afghanistan. These war torn regions comprise about a third of asylum seekers in the EU.
The report, published by the European Asylum Support Office, also showed that about half of all asylum seekers last year were granted refugee status. That's down from 55 percent the year before.
Germany was the most common destination, with more than two hundred thousand asylum applications - a figure that is 70% lower than the year before. Italy and France were also popular.
Most arrivals are via the eastern Mediterranean, but the report indicates an unprecedented surge in traffic in the western Mediterranean.
The number of migrants continues to be higher than the pre-crisis levels of 2014, underscoring the need for a multilateral solution to the migrant crisis.