Expats cast ballots in Turkish elections
Comments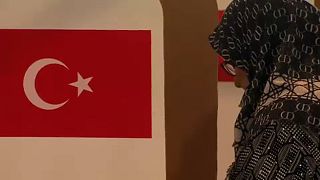 Turkish citizens living in Belgium have started voting in Turkey's snap presidential and parliamentary elections.
Some 140,000 people have registered, according to the Turkish Embassy.
The expat polls close on Tuesday.
One woman voting in Brussels said: "I will vote for peace, so the blood doesn't flow, so mothers don't cry."
Another added: "He represents us very well, we are very happy, others try to destroy what Erdogan did."
The elections will usher in a new executive presidency - one that concentrates more powers in the hands of the president, doing away with the prime minister's office.
Analyst Marc Pierini, from Carnegie Europe, commented: "According to EU standards, it is a system of absolute power which doesn't have a counter-power, neither parliament, the press, civil society or justice."
The new executive presidency was narrowly approved in a referendum last year. Commentators say it widens the gap further with the EU.
"The EU's view is not going to change much from what's been seen since the referendum. So you will have a Turkey that will be in a completely different orbit than the EU," said Pierini. 
Some three million overseas expats in all have the chance to cast their ballot for the 24th of June elections, which are being held more than a year earlier than planned.