Italy crisis: EU commissioner 'should have shut up'
Comments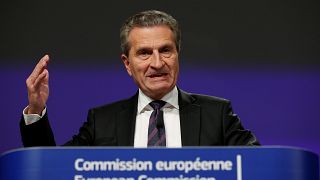 The EU's in full damage control mode after remarks from Budget Commissioner Guenther Oettinger sparked an outcry in Rome and Brussels.
He's now apologised for saying the financial markets would teach Italians not to vote for populists.
"I fully respect the will of voters being left, right or centre in every country," he later stressed in a statement.
Head to roll?
Some in Italy's 5 Star party have called for Oettinger's head to roll after his controversial words.
And, giving his assessment of it all to Euronews, the leader of the Greens in the Parliament didn't beat about the bush.
"Well he should have shut up, you don't expect a Commissioner to confirm by his expression the worst suspicions of Eurosceptics," said Belgian MEP Philippe Lamberts.
"He is running the budget negotiation which is a huge dossier and so I think it would be disruptive for the EU to resign, but this is really unfortunate. Oettinger has already had such slippages in the past and he should have learned from that."
The EU's headache
Aside from the Oettinger gaffe, Italy's political turmoil continues to have Brussels reaching for the headache pills.
With uncertainty, the crisis is forcing Europe to face some uncomfortable truths about its internal workings. So how can Europe deal with populists on the right and left?
Lamberts commented: "It's not can we, it's we have to, that's democracy...It won't be easy bridging the differences, but I much prefer to have these people within the circles of democracy than pushing them outside. That would be a big, big mistake."
Europe is banking on eurozone reform to save it- the idea is that by fixing the flaws of the monetary union, it could see off the risk of populism breaking Europe.