'The plastic is a disaster' - rescuing Belgium's rivers
Comments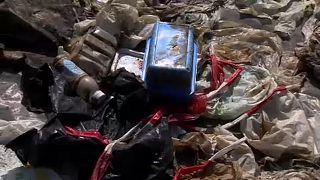 Delve beneath the surface of a river and you don't know what you might find. But, above all, you're likely to discover plastics - and loads of them. 
As the EU unveils plans to tackle single-use plastics, volunteers have been showing Euronews the fruits of two days of cleaning a stretch of the Dyle, a waterway crossing the Belgian city of Wavre.
"It makes you wonder why people throw so many things in rivers," said Daisy Siemens, who joined the clean-up. She said they'd discovered plastics, bottles and car tyres. 
Anne-Laure and Marc are eco-warriors, running a not-for-profit association behind the Wavre work - Aer Aqua Terra.
'The plastic is a disaster'
"The plastic is a disaster because here, for example, the river's very very long and its bed is completely lined with plastic," explained Ann.
"Plastics are filled with sand and plants so it makes plastic dunes."
And it's not just rivers that are being choked, it's our oceans too. Every year, 100,000 tons of plastic originating from the EU end up in the sea - representing 80 percent of all waste.
It takes ages for it all to decompose: 500 years for a bottle, 400 for cutlery and 55 years for a bag.
Adapting our habits
Some people are already adapting their consumption habits. But changing can be easier said than done, as we found out at a cooperative shop in Brussels.
"We try to reduce plastic as much as possible. But it's not always possible in relation to the goods we sell. With spaghetti for example it's very complicated," said Marie Wargny, co-manager of the Farm store. 
"We try to cut plastic by offering a lot of goods in bulk and providing reusable containers."
The tide is turning against plastics, but there's still a long way to go to cut the amount we use and throw away.