Orban's secret visit to Brussels
Comments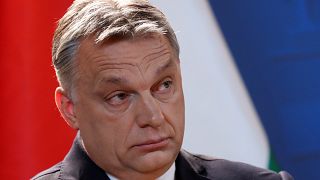 It's emerged that Hungarian Prime Minister Viktor Orban's been in Brussels this week to meet with the largest group in the EU Parliament, the European People's Party.
Details are hush, hush but it seems group leader Manfred Weber was among those he saw.
Challenged by Euronews, he didn't want to give anything away.
"We agreed that we don't do communication on this," said Weber, when asked what the meeting was all about.
Orban's since said the meeting was about how his party Fidesz could help the EPP group in next year's European elections.
Earlier reports suggested he was being summoned to the EPP over his policies.
Orban's been locked in running battles with the EU over migration and reforms which are said to undermine democracy - and weaken media independence.