'Without Bosnia Herzegovina, European integration is not finalised'
Comments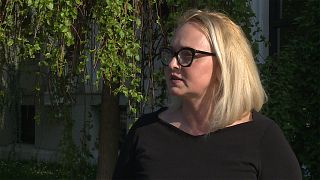 Since the turn of the century, Bosnia has be touted for European Union membership. Euronews spoke to Lelja Ramic Mesihovic, director of Bosnia Herzegovina's Foreign Policy Initiative, to assertain what was obstructing the country's path to joining the Western bloc.
Sophie Claudet: "Lelja Ramic Mesihovic, thanks for being with us. We are here in the Austro-Hungarian part of Sarajevo, which shows there is a long history with Europe here in Bosnia-Herzegovnia. Is it why the country wants to be part of the European Union?"
Lelja Ramic Mesihovic: "Without Bosnia Herzegovina, European integration or the European enlargement is not finalised. It has to come here if we want lasting peace and stability on the continent, that we all badly need."
Sophie Claudet: "Some Western Balkan countries are slated to become EU members by 2025 but Bosnia is not. Why is it taking such a long time?"
Lelja Ramic Mesihovic: "Bosnia Herzegovina is a very specific country in a specific legal and international situation. We are a country that now faces two somewhat conflicting proceses. One is implementation of the Dayton Peace Agreement and there are shortcomings out of that process. That basically affects European integration process in many aspects unfortunately."
Sophie Claudet: "Some reports mention corruption, weak state institutions, sometimes a lack of the rule of law. Is this being all being addressed?"
Lelja Ramic Mesihovic: "Elites here that are ruling the country, for many years now, actually operate only in cycles of election processes. This is something that they subordinate our lives to, our European future to, and nitty gritty power games that basically fallout out of poor implementation in many aspects of the Dayton Peace Accord: Frustrations, dissatisfaction, ethnocentric politics, daily politics. They seriously affect long-term goals of the country, such as European integration."
Sophie Claudet: "Are you still optimisic that your country, soon, or in the near future, will be part of the EU?"
Lelja Ramic Mesihovic: "I am a depressed optimist."
Sophie Claudet: "So what's the timeline you have in mind?"
Lelja Ramic Mesihovic: "I will tell you something about timelines. There was a time when Bosnia was a frontrunner in 2004/2005, together with Macedonia. Well let's not talk about frontrunners and exact timelines, let's work on it to happen."
Sophie Claudet: "Well thank you very much. That's all the time we have for today. Join me again soon for another edition of Insiders. Goodbye from Sarajevo."