Syrian musicians transforming trauma into art
Comments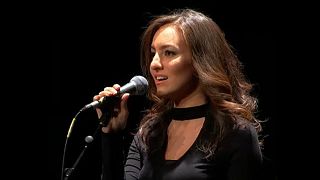 Coming together to make music, thousands of kilometres away from their homeland, a group of Syrian musicians who fled the war have been performing at a cultural pop-up event in Brussels.
"I founded 'Syrians Got Talent' just after the Bataclan attacks in Paris, to send a message of solidarity between Syrian refugees, who were widely denounced wrongly in the press, and to the Europeans who have to welcome them," explained Shams El Goniemi.
They want to transform the trauma and highlight the resilience of Syrians - and to change perceptions about them.
Singer louloua Rahmoun commented: "It's a very good idea to give another perspective about what people think when they hear the words 'Syrian' or 'refugees'."
Supported by the EU, the concert happened whilst an international donor conference for Syria was held in Brussels.
Violinist Mabad Soleiman, 19, from Raqqa, explained: "We try to give a message through beautiful music, that we learn the language, we go to school, we do everything that's positive in this country, this country which is a great to us."