'Words are my only weapons' - Syrian activist's push for peace
Comments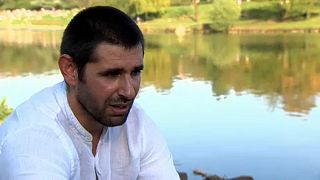 From dusty Syria to the crowded Belgian university town of Louvain-la-Neuve. Yahia Hakoum's life has changed so much since 2011, the year he joined protests against Bashar al-Assad's regime.
He was picked up and jailed for 45 days, spending some time in the notorious Saydnaya prison, where he says he was tortured and lost 31 kilos.
Now living in Belgium, that trauma still haunts Yahia. He recalls how his jail experience left him.
'Skin and bones'
"When I was released, I was just skin and bones. People were scared of me. Torture was systematic, to make a real physical change," he said. Discouraging people from joining demonstrations is the point he's making.
After prison, Yahia decided to get out of Syria. Through an Italian priest, he was able to get a student visa for Belgium - where he now studies political science, alongside activism.
He explained; "I preferred to leave the country because I didn't want to kill someone just because they didn't share my political views. Words are the only weapons I have. I don't have anything else. I have no influence, so now what I do is testify about what happened and what is happening today."
Ending Syria's conflict
Looking to the future, Yahia is in no doubt: peace will not come from talks between Iran, Russia and Turkey, nor from a Europe standing still without active mediation.
He said: "The EU has accepted to play the role of a big NGO that delivers humanitarian aid, that pays money. It's able to play a bigger role through economic sanctions, but even those sanctions are not now respected," referring to member states.
In Yahia's view, as long as the international community supports a so-called official opposition that represents the interests of other countries, there'll be no end to the Syrian conflict.
"They have never listened to people inside the country. So far, there isn't any real Syrian representation that comes from the heart of the revolution or that is able to represent the revolution," he commented.
"This revolution doesn't belong to old people, it doesn't belong to the historical opposition of Assad: this is the revolution of the youth and this youth has never had the chance to speak out at political level."
Yahia hopes to one day be back in Syria to re-join what's left of his family, the conflict has claimed the lives of many of his siblings.