French president challenges 'inward-looking nationalist selfishness' in Europe
Comments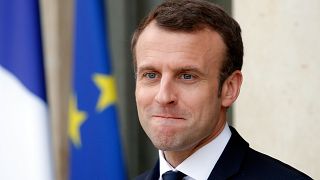 Emmanuel Macron has outlined his vision for the future of the European Union in Strasbourg.
The 40-year-old, who secured the French Presidency in May on a pro-EU platform amid a populist surge in the bloc, delivered his highly anticipated speech to over 700 MEPs in the European Parliament on Tuesday.
Macron challenged "inward-looking nationalist selfishness" amid populist sentiment in the bloc and pushed for a more united and reinvigorated Europe.
"Nationalism will lead Europe into the abyss. We see authoritarianism rising all around us," he said.
"The response should not be authoritarian democracy but the authority of democracy."
Macron also sought to tackle the "poisoned debate" on migration, proposing the creation of a European programme that could subsidise local authorities which host and integrate refugees.
In a speech which touched on a range of issues, Macron recommended that copyright law be tightened to protect artists' "genius" and reiterated his support for tougher environmental legislation.
He proposed an EU-wide carbon price floor to limit emissions and a carbon border tax targetting non-EU companies which are not bound by the same climate restrictions.
The President made his case for economic reform, suggesting the bloc introduce a "short-term" digital levy which would target giant tech companies that pay little to no corporate tax. The money could then be used to top-up the EU budget.
Later on Tuesday, Macron will head to Epinal in eastern France to debate the Union with members of the public, in an effort to drive EU-wide dialogue and encourage public involvement in the future development of the bloc. The event will be the first of many town hall style "citizens' consultations" to take place across member states until September.
Macron's address in Strasbourg comes days after the US, France and the UK conducted airstrikes on chemical weapons facilities in Syria over the weekend. The action was a retaliatory response to news that Bashir Al Assad's regime forces had killed over 40 people in a chlorine gas attack in Douma, Western Syria, on April 7. A relief organisation said at the time that more than 500 people had been treated for exposure.
Yet European Parliament President Antonio Tajani has voiced concern about escalating the conflict in Syria. On the eve of a debate on the situation, which will be held after Macron's speech, he said: "The use of chemical weapons is unacceptable and represents a red line that cannot be crossed with impunity. However, a further military escalation should be avoided, as it would bring new suffering to the Syrian people and aggravate the humanitarian crisis."