EU 'understands' Syria strikes but calls for peace talks, says Mogherini
Comments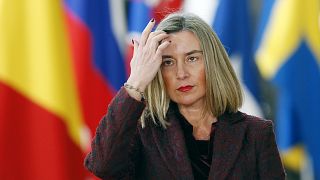 European Union foreign policy chief Federica Mogherini said the European Union "understood" the need for US, French and British airstrikes in Syria but that the bloc called for renewed peace talks, during a news conference on Monday.
The conference came following a meeting of EU foreign ministers to discuss an alleged chemical attack on April 7 in Douma, just outside Damascus.
Mogherini said member states had shown "full unity" and called for a summit in Brussels scheduled for next week to encourage peace talks.
"There was an unequivocal and strong wish from all member states to use the Brussels conference next week as the opportunity to re-launch together with the United Nations the political process to solve the Syria crisis," Mogherini said to the gathered press in Brussels.
"The only way to avoid that the Syria crisis further spirals into a wider regional or global confrontation is to put all the pressure on the parties and namely on the Syrian regime to come to Geneva with meaningful intentions for negotiations," she added.
Mogherini said the Brussels conference would be used to put pressure on the Assad regime and its allies to "put an end to the suffering and the dying of so many Syrians".