'My mother saved my life,' Holocaust survivor tells Euronews
Comments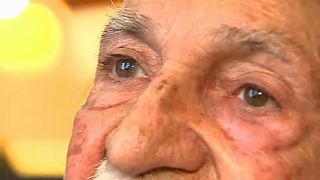 As Israel remembers the victims of the Holocaust, for one Belgian survivor the memories of that time are still very real.
Simon Gronowski was just a boy when he was put on a train on the 19 April 1943 - a train that would have taken him to his death.
"They put me in a cattle car. I was 11 years old. I didn't know that I was sentenced to death and that this train was going to take me to the place of my execution," he recalled.
"By miracle, I jumped off the train and I escaped. I was helped by great people. Why? Because my parents were Jewish."
'My mother is a heroine'
Simon's mother, Chana, with him on the train, helped him to escape. She was sent to the gas chambers on arrival at Auschwitz. His sister, transported separately, also died there.
"I jumped off the train because I obeyed my mother. If my mother had told me to stay with her, I would have stayed with her. And if I had known that my mother would not jump with me, I would have stayed with her," said Simon.
"My mother saved my life. My mother is a heroine."
Anti-semitism
All these years on, Simon - living in Brussels - told Euronews how he views anti-semitism and his fight against it.
"There are people who do not like Jews, but they do not want to hurt them. It exists. And then there is brutal anti-Semitism, that of hatred. That's what I fight. I am optimistic, I believe in the future, because I believe in human goodness," he said.
Simon visits universities and schools around the world to share his experiences, and to fight hate.