EU's Timmermans arrives in Warsaw to talk rule of law
Comments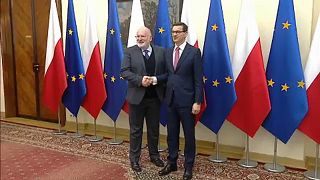 The European Commission's First Vice President, Frans Timmermans, is in Warsaw to try and resolve a spat which threatens to strip Poland of its voting rights. 
He's meeting Prime Minister Mateusz Morawiecki over a controversial overhaul of the country's justice system.
The reforms undermine democracy, say critics, while Poland has maintained they pose no risk to the rule of law.
Brussels has taken the unprecedented step of triggering Article 7. That could ultimately lead to the loss of voting, but Hungary has vowed to block any such move.
The leader of Poland's ruling PiS party recently said there was an "80 percent" chance that Warsaw will soon reach a resolution.