Welcome to Brussels - one of Europe's most polluted cities
Comments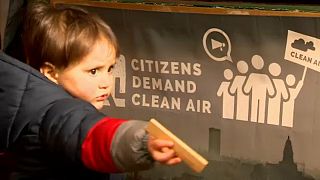 It's the de-facto capital of Europe, but also one of the most polluted cities in Europe. Brussels' unenviable pollution record is down, in part, to a high percentage of diesel cars on its roads.
People who live in the city are trying to help themselves.
Armed with an app and detection device, one group is taking to the streets to measure the quality of the city's air.
"People who live here in Brussels near the main roads, when they have children between two and five years-old will experience more bronchiolitis, a chronic irritation of bronchitis," said Lieving Chemin from the 'BRAL' association. 
"Children under six years who grow up in the city will be more likely to develop asthma and a lung disability that will stay a long time."
Over 600 premature deaths
Pollution causes more than 600 premature deaths in Brussels every year, according to government data.
Fine particle levels are almost double recommended levels.
"I was born in Brussels but I notice that the quality of the area changes and it's a problem, my children feel it, say it, they say 'dad, it stinks, it feels bad, I don't feel well," one man told Euronews. 
Like most old cities, Brussels has narrow streets which can get snarled up with traffic - causing pollution problems, particularly at peak times.
"Brussels is also a commuting city, with a lot of cars coming from the outskirts of Brussels and the other regions in Belgium to the capital city," explained Joeri Thijs, an expert in air quality from Greenpeace.
"That has to be solved on the federal and not only regional level in Flanders and Wallonia. Obviously. So people have to be motivated to take public transport or to move close to their working place and that's something Brussels can't to alone."
Infringement process
Ironically, Brussels is home to EU institutions - and the European Commission has launched an infringement procedure against Belgium for not complying with air quality standards.