Citizen campaign to protect minorities secures debate in EU parliament
Comments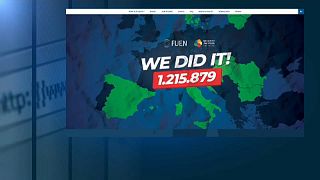 It's attracted more than a million signatures and now has to be debated in the European Parliament. The European Citizen's Initiative aims to bring in common EU standards to protect national and linguistic minorities.
It was launched by the Federal Union of European Nationalities.
"Minorities in Europe are in very different situations. We have States which don't even recognise national minorities like France or Greece. We have States like Finland, Belgium, Italy which have a high degree of authority for their national minorities while the others are somewhere in the middle," explained Loránt Vincze, FUEN President.
"So, there are big disparities from this point of view in Europe and it would be great to have some standards and have the possibilities to share the best practices."
The Federation is calling for a range of actions across languages, education and culture, among other things. It cites schooling as a particular issue.
"In Romania, a Hungarian school was not possible to be established because the local authorities, then the judiciary and everybody tried to oppose the creation of this school," said Vincze.
"And if we would have recommendations or we would have a sort of framework at the EU level that creating schools for the minorities is a European way of having minority education, then this could not happen."
It will be some months yet before the campaign makes it to the parliament chamber and any decisions made over its proposed actions.