EU makes borderless streaming of TV, movies a reality
Comments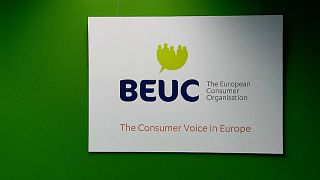 Going on holiday but don't want to miss out on watching your favourite show? Well, from April 1st you can stream without borders within the EU.
It is all thanks to the portability regulation, meaning content providers like Netflix or Amazon Prime have to allow access to shows from their local subscription, in a foreign EU country on a temporary basis.
"Many consumers would not only like to benefit from subscriptions when they travel, but they would also like to have access to foreign digital content which is offered to consumers in other countries. If you're from a certain country of origin, you want to see what is going on at home, you want to have access to your TV so to speak in your previous country, and this is not possible today," says BEUC's Deputy-Director-General Ursula Pachl.
This is the dream of the digital single market, making all content accessible throughout the EU, rather than geo-blocking, something which a German MEP from the Pirate Party is fighting to abolish.
"We have learned from the music industry that the best way to counter copyright infringement is to have an attractive legal offer that is worldwide, where people can for a fair price access any content they want. The film industry has still not understood this, it still insists on bring movies at different times in different countries, or not to allow streaming at all in certain countries and this makes people upet because even if they are willing to pay there is no legal offer for them," says German Pirate Party MEP Julia Reda.
Getting Hollywood on board may prove a lot more difficult. While the USA does not have a monopoly on must-watch TV, it is dominant in cinema and jealously guards that position.
"One series that I very much like is Broadchurch, and there is the third season that unfortunately is not available on Netflix Belgium, nor Netflix Germany, so I'm afraid that the portability regulation won't solve the problem for me," says Reda.
In this case the EU legislation has been modelled on ideas from British Liberal Democrat leader Vince Cable. When, a few years ago the EU made a big fuss about the difference in streaming content availability in its respective member states, and decided it wanted to do something about it, an outright ban on geo-blocking was suggested. But it turns out Cable was on the money with rules to make your home content 'portable'.
The idea is to make life easier for EU citizens, and reduce the temptation of pirating content when they're abroad. So if you go to France, you should still be able to access UK-only Netflix content, sport streams, and so on, the same way you would if you were at home. Any paid service you can access at home has to be available for you if you travel within the EU, though the rules don't strictly define the length of what constitutes a temporary visit - meaning the specifics will need to be laid out by the content providers themselves.
Netflix spokesperson Rut Rey told Euronews: "While our catalogues do differ from country to country due to licences and local preferences, Netflix originals like The Crown, Black Mirror, Stranger Things, Narcos, Bright etc. are all available everywhere ... so for the most part, there is little difference for a UK subscriber between accessing the UK or local catalogue."
The portability rules don't apply to free services or public service broadcasters, though, and the BBC has confirmed there won't be any changes to iPlayer. So no watching Newsnight while you sit by a Spanish pool.
Free-to-air services can make the feature available, but the rules say they have to inform users who will than have to login to the service - thereby verifying their home country. Providers also aren't allowed to charge users for this privilege, though the upside is that they don't necessarily have to purchase rights to content within host countries.
The EU believes providers are ready for Sunday's rule change, so you should be able to access the many things Netflix, Amazon, Sky, et al have to offer when you take your next European holiday. Enjoy it while it lasts, though. Theresa May has made it clear the UK will not be staying within the digital single market after Brexit, so these rules have about a year before they become totally irrelevant to the Brits.