EU criticises Trump's 'gun to our head' over metal tariffs
Comments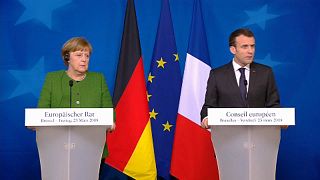 French President Emmanuel Macron has lashed out at Donald Trump for giving the EU a 40-day exemption from US metal import duties, describing it as like putting a "gun to our head."
EU leaders want a permanent, rather than temporary, exclusion from the tariffs.
"Out of principle, we talk about everything with a friendly country that respects the rules of the WTO. We speak of nothing when there's a rifle against our head," said Macron.
Not enough time
The temporary exemption runs until the start of May - but the EU Commission's President doesn't think that allows enough time to strike an agreement.
"It seems to me highly impossible to cover all the issues we have to discuss with our American partners from now to 1 May and we are asking for permanent exemption," Jean-Claude Juncker told reporters.
Trade war?
If the White House does hit EU producers, counter-measures could include European tariffs on American goods - although Brussels says it wants to avert a trade war.
EU leaders have said they reserve the right to respond "in a proportionate manner" to protect the bloc's interests. 
Speaking in Brussels, British Prime Minister Theresa May commented: "We have been arguing for an EU wide exemption, of course the president (Trump) has announced a temporary exemption for the EU. We were discussing this morning, that we want to ensure that that does become a permanent exemption for the EU."
The trade issue has been a big talking point at an EU summit in Brussels.
Reporting from the summit, Euronews' Efi Koutsokosta said: "The EU leaders support the EU Commissioner's approach who wants a dialogue with the US, to see how they can tackle together the steel overcapacity problem. They all want a permanent exemption from US tariffs but many here say that with Trump nothing should be taken for granted."