Poland under pressure to explain controversial court reforms
Comments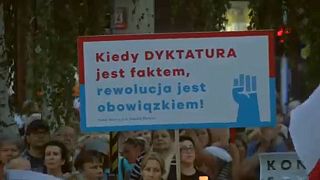 Will Poland explain itself? German Chancellor Angela Merkel's been in the country ahead of an EU deadline for Warsaw to justify its controversial court overhaul.
That deadline, of midnight Tuesday, was set amid accusations that the reforms weaken democracy.
It was a top issue as foreign ministers met in Brussels - with a call for Poland to play ball.
"Everybody knows what is at stake here. It's very, very important that we stick to the common rules, and that goes also for Poland," said Danish Foreign Minister Anders Samuelsen. 
It's a troubling issue for Brussels, with it putting Poland firmly on its radar.
EU Commission Vice President Frans Timmermans acknowledges the right of countries to make reforms, but says they have to be within certain limits.
"If that is understood as the right to put the judiciary under political control, then we have a problem," he said.
"The independence of the judiciary and the separation of powers is an essential element for the functioning of the EU, I'm not just talking about the values we share, but also about how the EU functions. It's not just a community of values, it's a community of law, it is based on law."
If the risk is deemed serious enough, the so-called nuclear option - Article 7 - could happen.
Warsaw would face the risk of losing its EU voting rights.
But despite protests on Polish soil, and elsewhere in the EU, the nuclear option is unlikely because agreement is needed across member states, and Hungary has said it will stand in the way.
Warsaw's already said that its reforms improve efficiency and accountability - by removing judges who've prospered under the communist regime.