Western powers unite against Russia in spy poisoning case
Comments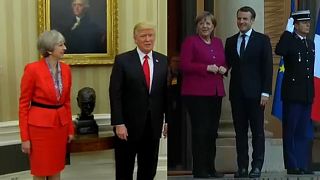 Germany, France, and the US are rallying around Britain - condemning the Salisbury nerve agent poisoning as "an assault on UK sovereignty".
In a rare joint statement the western powers said...
"We share the UK assessment that there is no plausible alternative explanation, and note that Russia´s failure to address the legitimate request by the UK government further underlines its responsibility.
We call on Russia to address all questions related to the attack in Salisbury. Russia should in particular provide full and complete disclosure of the Novichok programme to the Organisation for the Prohibition of Chemical Weapons (OPCW).
Our concerns are also heightened against the background of a pattern of earlier irresponsible Russian behaviour. We call on Russia to live up to its responsibilities as a member of the UN Security Council to uphold international peace and security."
Britain also received overwhelming support from its allies on the UN security council, including the U.S., amid heated debate on Wednesday night.
Washington's envoy, Nikki Haley, delivered the most unambiguous statement of support from the Trump administration so far.
While the West unites against Russia, some analysts argue Putin's popularity could enjoy a boost ahead of Sunday's presidential elections where he is on track to become the nation's longest-serving ruler since Josef Stalin.