Immigrants struggle for health care in Belgium
Comments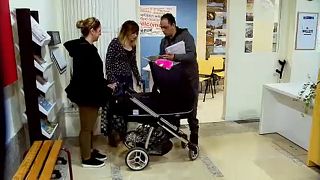 The daughter of Rachid and Sakina was born three months ago in a hospital in Belgium.
Now this Moroccan family wonders how they will manage to pay for the childbirth, 5,300 euros.
In theory, they are covered by a public service called Urgent Medical Care (Aide Medicale Urgente), intended to cover the medical costs of undocumented immigrants, but their case has been blocked by red tape.
Rachid: "I did everything for my family. But now I'm stuck. I swear I'm stuck now."
Sakina: "What am I going to do? I do not have the right to medical treatment. If I go to the hospital, I will have to pay upfront. But I couldn't, if Doctors of the World didn't help me. That's my problem."
The organization Doctors of the World, Médecins du Monde in French, deals with many cases like this one.
Today they are worried because of new legislation that restricts the use of this service.
The government says that this reform is necessary to fight abuses, but NGOs are outraged.
"This idea that migrants are here to take advantadge of our social secuirity system It is just an unfounded argument which creates the xenophobia we see in Belgium and in Europe", says Ruth Shrimpling of Doctors of the World.
According to Medecins du Monde, currently 90 percent of undocumented immigrants never get any medical assistance in Belgium.
Yet, this service represents only a fraction (0.2 percent) of the total social security budget.