Italian right-wing leader slams EU 'destroyers' in Strasbourg
Comments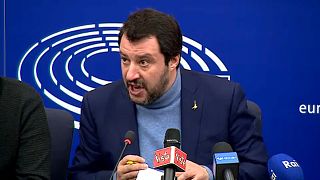 Italian right-wing leader Matteo Salvini denounced the European Union as "destroyers" for policies he said robbed citizens of the right to hope, a week after his League party became parliament's second-biggest in a national election.
Speaking to reporters at the European Parliament in Strasbourg, he said that if he succeeds in heading a government in Italy he would prioritise renegotiating treaties including on budget restrictions, banking and trade.
The three percent deficit limit "is one of those rules, written around a table, which we are happy to respect if they help people live better", Salvini said.
"But if in the name of those constraints we have to fire, close and destabilize, no."
During the election campaign, the League was the only large party to say explicitly it only wanted to remain within the EU if fiscal and immigration rules were re-written.
In Strasbourg, Salvini said that the process of deporting immigrants has been a joke so far and had to be expedited.
The Italian election ended in political gridlock, with Salvini jockeying for power with the anti-establishment 5-Star Movement, which emerged as the single largest party.