EU sets sights on boosting parental rights
Comments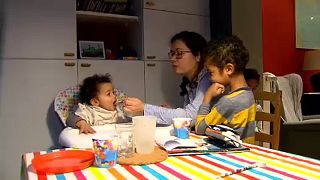 As International Women's Day turns the spotlight on female achievement, Euronews spoke to a working mother in Brussels about the challenges she faces. 
Séverine Picard is a legal adviser and, after having the first of three children, she reduced her working hours to 80 percent.
She says she feels privileged because Belgian laws allow her shorter hours - and her employer understands too.
But adds that the workload can be the same, while the salary is less - and she's had to lower ambitions.
"It's clear that if I didn't have children or if I was a man, I would have gone for other jobs with more responsibility. I didn't do it, I chose to put my parenting first, because my part-time hours would be questioned," Séverine told Euronews.
Severine's case is not unique. A Danish study shows that when women have their first child, their salary goes down by 20 percent - compared to men.
The European Commission's working up a directive on the work-life balance, covering paid paternity leave, parental leave changes as well as flexible working arrangements.
"We are for the first time introducing the paternity leave. We are coming with the proposal for the parental leave (for) four months minimum, which is not transferable. So it means that we are inviting the second parent, who are  usually fathers, to share more work and also pleasures," said Věra Jourova, the European Commissioner for Gender Equality. 
Union members have joined together in Brussels to show their support.
The pressure's on for governments to implement changes, further boosting gender equality and workers' rights. But there's a fear that budgets may stand in the way.