Italy's election earthquake shakes Brussels
Comments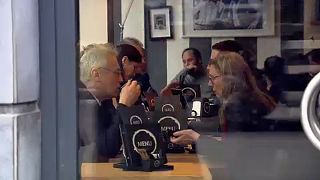 Italy's election earthquake is being felt in Brussels. The support for Eurosceptic and anti-immigrant parties coming as a big shock from a country that's traditionally showed a lot of love for the EU.
But economic and migration worries have taken their toll on voters.
"Mrs. Merkel has a lot of responsibility for what's happened, because she took a unilateral decision  (referring to migration), without any real discussion with her EU partners," said one Italian man in Brussels. 
Another added: "I don't think that the Italians are Eurosceptics, I think Italians have been waiting for answers from politicians. The answers haven't come for many years. So people vote to make politicians react."
But in Brussels, there's a feeling that voters have become confused about the issues at the heart of Italy's vote.
"This is a European trend, like with Brexit. Unfortunately people talk about migration by connecting it to social distress, that is actually a result of the economic crisis," said Cecile Kyenge, an Italian centre-left MEP. 
For forces in the EU parliament, driving a Eurosceptic agenda, the outcome of Italy's poll is a step forward.
"They do not wish the EU to continue in this way of a federal Europe or united states of Europe or deeper integration, and hope that this message will be heard by Mr. Juncker, Chancellor Merkel and President Macron," said Jan Zahradil, a Czech Conservative MEP.