'I'm not a terrorist' - Wanted Syrian Kurdish leader speaks out
Comments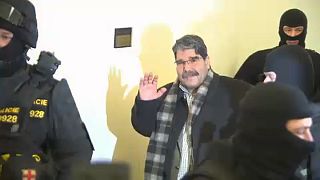 A Syrian Kurdish leader - wanted by Turkey - has told Euronews that he's not a terrorist.
Saleh Muslim was detained at the weekend in Prague at the request of Ankara, which accuses him of disrupting the state and aggravated murder, and was later released by a Czech court.
"Why should i go to Turkey, I'm not a Turkish citizen. They don't have the right to make such claims against me, accusations against me," said Muslim.
"I mean because I've never been in Turkey. When I went to Turkey, I went on an official invitation by their Foreign Ministry. They know that."
Muslim formerly headed the PYD, which Turkey deems to be a terrorist organisation. It's part of a coalition that governs Kurdish-held areas of northern Syria
Muslim continued: "I have never been a terrorist. I wouldn't be a terrorist. I am politician, I'm doing my job talking to people in politics who are saying it is false. It is not true."
Turkey says they will follow Muslim "wherever he goes." It can file an extradition request within a 40 day period, but he is free to leave the Czech Republic.