EU top appointment sparks transparency questions
Comments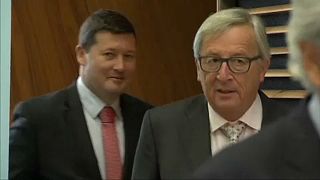 Jean-Claude Juncker leaves his EU Commission President job next year, but he's set to live on in Brussels through his right-hand man.
The recent appointment of his aide, German Martin Selmayr, as the Commission's next Secretary-General was unexpected - and is controversial.
Questions are being raised about transparency.
"You give us the dates, you give us the shortlist and we'll know who the candidates were, or or not, and who was discarded, We want transparency," said a French journalist during a recent Commission media briefing.
"Good, after this speech worthy of Robespierre," replied Alexander Winterstein, Deputy Chief Spokesperson for the Commission.
The journalist responded: "I don't accept the word Robespierre... I want things to be very clear between us."
"It happened in the past," said Winterstein, "it's quite normal for the Commission to make the transfer of Deputy General Managers in all directions, this is provided for in our rules.
Selmayr, 47, is a top player in Brussels - and is said to have his enemies. In his new role, he'll be in charge of an army of 32,000 EU staff. His future post-Juncker had been uncertain, but now, it seems, he'll be staying on.