EU demands immediate Syria ceasefire
Comments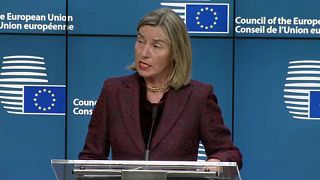 The EU's calling for the rapid implementation of a ceasefire in Syria.
This, amid the dust, death and destruction in the rebel enclave of Eastern Ghouta - described as "hell on earth."
A UN Security Council resolution demands a 30-day ceasefire across the country, but fighting has continued to rage in places.
"Let's have the ceasefire starting as soon as possible as a matter of urgency," said Federica Mogherini, EU foreign policy chief.
"Every single minute we wait there are people dying, children, women, humanitarian situation that is deteriorating."
Meanwhile, the EU's slapped sanctions on Syria's industry and information ministers - freezing assets and barring them from travelling in the bloc. It means more than 250 people are now under sanctions. Dozens of organisations have also had their assets frozen.