State of the Union: Losers of the week
Comments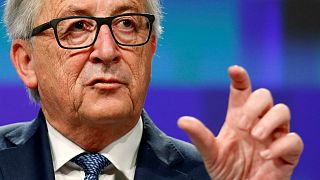 This is State of the Union, euronews' weekly roundup of the big stories and the big issues facing the EU-28 over the past seven days. In this week's edition, so much losing.
Wikileaks founder Julian Assange and Israeli Prime Minister Benjanmin Netanyahu both lost at the hands of justice: A British judge upheld the arrest warrant for Assange, while Israeli police recommended that bribery charges be brought against Netanyahu.
Meanwhile, Dutch Foreign Minister Halbe Zijlstra and German Social Democrat leader Martin Schulz lost their jobs—Zijlstra for lying about a meeting he didn't have with Russian President Vladimir Putin, Schulz for making a U-turn on his party's grand coalition with Angela Merkel's Conservatives.
A rare winner this week, the Spizenkandidat—or lead candidate—process. Brussels has been debating the merits of the system since 2014, when it was used to appoint Jean-Claude Juncker to the top post at the European Commission. This week, President Jucker came out in support of using the system again next year when his term comes to an end. Accoording to the process, the presidency goes to the top candidate of the party that wins the most seats in the European parliamentary elections. Frontrunners for 2019 are rumoured to include the European People's Party's Michel Barnier, Socialists and Democrats' Pierre Moscovici, and Margrethe Vestager of the Alliance of Liberals and Democrats for Europe.
Another big European story this week was the meeting between Serbia's President Aleksandar Vucic and Croatia's Kolinda Grabar-Kitarović. Relations between their countries have been strained since Croatia's war of independence in 1991 and they have many lingering issues to discuss. The list includes minority rights, border disputes, people missing since the war, and cooperation on war crimes prosecution. On the plus side, this was the first official meeting between Serb and Croat leaders since 2013. On the downside, Vucic was greeted in Zagreb by angry war veterans protesting Belgrade's support for the Serb rebellion that led to four years of war and the deaths of some 10,000 people. Whether the meeting will be scored as a win or a loss remains to be seen.