Migration a priority for Austrian EU presidency
Comments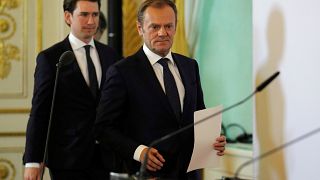 -
European Council President Donald Tusk arrived in Vienna on Tuesday for talks on Austria's upcoming EU presidency.
Chancellor Sebastian Kurz came to power last year running on an anti-immigrant platform. He said Austria will take the same hard line at the European level.
"As you know we would like to make security and the fight against illegal immigration a priority during our EU presidency," Kurz said during a joint press event with Tusk.  "I 'd like to inform you that we are going to organize an informal summit of EU heads of strates and governments here in Vienna on the 20th of September".
"Chancellor Kurz and I have disscussed it arready many times already, and we have similar views," Tusk said. "Migration will remain a challenge for many years to come, which is why we want to find a solution that make sure that the EU, together with national states, can manage future migration flows efficiently and without creating new divisions in Europe".
Tusk has rebuked the EU's mandatory quota system for refugees, calling it "ineffective" and warning that it could create an East-West division between EU member states.
Austria is not part of the so-called Visegrad Four countries that have refused to accept refugees but there is ongoing speculation that Vienna's new ruling coaltion could move the country closer to the group of Hungary, Poland, the Czech Republic and Slovakia than to its western EU allies.
In recent months, Austria has implemented what some see as anti-immigrant measures, including a so-called burqa ban and deploying the army to assist police in nationwide border control exercises.