EU: a transnational list for 2019?
Comments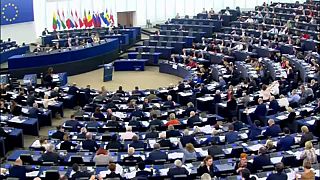 The European Parliament has come up with a plan to introduce a transnational list for the European elections in 2019.
MEPs will vote on it in a plenary session in Strasbourg.
The numbers
751 - the number of seats in the Parliament
73 - seats reserved for British MEPs
27 - seats to be redistributed after Brexit
14 - member states currently under-represented
30 - seats earmarked for a transnational list
16 - for future member states
The timescale
EU treaties and Member states electoral laws would have to be amended by May 2018, one year before the elections.
The Parliament's proposal should be debated during the next European Council summit in the spring.
What they are saying
Federalist civil society organizations hope the idea could defuse growing euroscepticism:
"It is not just enough to have an European transnational list, even though that might contribute, to some extent, to raising awareness. We need to have truly European parties, that will have a truly European platform and a joint manifesto that will be then communicated by all candidates in all member states," Petros Fassoulas, Secretary-General, European Movement International.
But some think the deadline is tight.
"It requires changes, which will require unanimity and that makes it already very difficult. So, I think that to find the consensus that you need, and then apply that to the legal procedures and realities, is a very lofty ambition with respect to 2019," said Janis Emmanouilidis, director of Studies at European Policy Centre.