Israel uses tourism to promote settlements - EU
Comments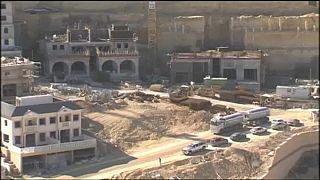 EU diplomats have reportedly warned that Israel is developing archaelogical and tourism sites in Palestinian neighbourhoods of Jerusalem. 
The suggestion is officials see this as a way of legitimising illegal settlements.
The UK's Guardian newspaper has seen a leaked report from officials which suggests projects in parts of East Jerusalem are being used "as a political tool to modify the historical narrative and to support, legitimise and expand settlements."
Where is the report from and what does it say?
EU Heads of Mission in Jerusalem write a situation report each year.
The copy seen by the Guardian identifies settler-run excavation sites in the heart of majority-Arab districts.
A cable-car project is also proposed, with stops on disputed land.
Some built-up areas have reportedly been designated as national parks.
"East Jerusalem is the only place where Israeli national parks are declared on populated neighbourhoods," the Guardian quotes the report as saying.
A bleak picture
The report suggests the overall situation in the city has worsened, along with the prospects for peace.
"The city has largely ceased to be the Palestinian economic, urban and commercial centre it used to be," it reportedly states.
Silwan
The City of David is an government-funded archaeological site in the Palestinian neighbourhood of Silwan.
The report describes the site, operated by a settler organisation, as "promoting an exclusively Jewish narrative, while detaching the place from its Palestinian surroundings." There is "particular tension", it says.
Living there are:
450 settlers (under heavy protection)
10,000 Palestinians
Interested? Find out more here
The cable car
This project, approved by the Israeli cabinet in May, aims to connect West Jerusalem with the Old City. It is hoped to be ready by 2020 and capable of transporting more than 3,000 people an hour.
The plan is also to extend further into East Jerusalem.
The area is recognised internationally as occupied. Describing the plan as "highly controversial", the report warns it will contribute to the consolidation of "touristic" settlements.
Diplomats also warn of a security risk. The cable car would be around 130 metres from the Temple Mount/Haram al-Sharif complex.
This is revered as a holy site by both Muslims and Jews.
What does the report say about this?
"Critics have described the project as turning the World Heritage site of Jerusalem into a commercial theme park while local Palestinian residents are absent from the narrative being promoted to the visitors."
Has the Israeli government said anything?
Yes and no.
A statement to Euronews reads: "We do not comment in the press on partial comments from the leaked report."