State of the Union: Merkel's better week
Comments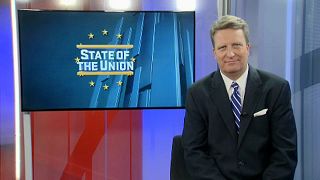 In this edition of State of the Union: Angela Merkel gets her carnival on. After failing to find a coaltion partner months after Germany's general election, there's been a lingering suspicion among friends and foes that Merkel may have lost the mojo that's kept her on top for the last 12 years. But this week the Social Democrats agreed to start talks and Merkel and her European allies are breathing a (provisional) sigh of relief.
Someone else who shouldn't be written off quite yet: Silvio Berlusconi. The media mogul and former Italian prime minister was in Brussels this week preparing for his comeback. Berlusconi's Forza Italia has a good chance of joining a future center-right coalition after Italy's upcoming March elections. Berlusconi is barred from office but the 81-year old is still pulling strings behind the scenes.
Another politician used to making waves: Flemish nationalist Theo Francken. Belgium's Secretary of State for Asylum and Migration has kicked up a new storm with a draft bill that would allow police to search private homes suspected of sheltering unauthorised migrants. MPs will hold a hearing with judges next week but they're unlikely to resolve the law and order vs. civil rights debate that the bill has ignited.