Exhibition challenges victim-blaming rape myth
Comments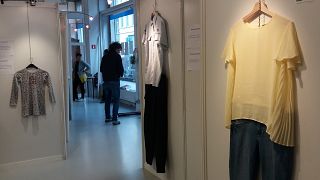 "What were you wearing?" It's a question that's often put to the victims of sexual violence.
It suggests that the way they were dressed may have had something to do with the attack -- and thereby insinuates that the victim bears some responsibility.
Now an exhibition in Brussels is taking on that prejudice by recreating the outfits of 18 rape victims.
Delphine Goossens is a project manager at Molenbeek municipality's prevention services:
"Contrary to what one might think, it's not about sexual compulsion, it's not a man who sees a women who's just too beautiful and he can't restrain himself. It's a question of power - of overpowering someone else," she says. "We've seen it with the Weinstein case - these other recent stories. It's a question of taking the power, of stealing the humanity of someone over whom they give themselves a right they don't have."
But there are still many people who believe that assault can be provoked by the victim's outfit.
"I think that if a girl wears racy clothes it means that she wants to take the risk," one young man told euronews' Elena Cavallone. "If she doesn't want to be assaulted or have any trouble, then she has to be careful about what she wears".
"Skirts make a difference," agreed a woman Cavallone also spoke to on the streets of Molenbeek. "I realise that when I am wearing a skirt I receive more remarks".
According to the European Commission, the number of rapes in Europe increased by 47 percent between 2008 and 2015. Worldwide, one woman in five is a victim of sexual violence.
Outfits on display at the exhibition include a pair of pyjamas, a child's school uniform and police attire.