The EU's new role in the Middle East?
Comments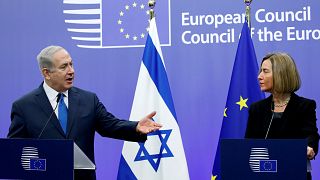 Could Europe be an honest broker in the Middle East peace talks? The question is taking on new urgency as Palestinian leader Mahmoud Abbas rejects any further American role in the negotiations.
European Union Foreign Minister Federica Mogherini has maintained relations with both parties and remains committed to a two-state solution. Political scientist Hasni Abidi is the Director of the Centre for Studies and Research on the Arab and Mediterranean World (Cermam) in Geneva. He says America's missteps could be to Europe's advantage.
"To be a mediator, you have to be recognised and accepted by both parties, by the Israelis and the Palestinians.The current circumstances offer a window of opportunity for the Europeans to play a very important role as a facilitator of negotiations, since the US isn't in a position to do it".
At a meeting of the Palestinian authority on Sunday, Abbas  called the latest US peace efforts "the slap of the century" and said that Israel had killed the Oslo Accords. Abbas vowed to reject American leadership of any further negotiations and urged Palestinians to reconsider their signed agreements with Israel.
But Europe should also tread carefully, Abidi warns.
"Europe doesn't want to burn bridges and unilaterally recognize the state of Palestine. This would be a courageous step but it could be counter productive if Europe wants to play the role of an objective, neutral mediator in this dynamic".
Europe is already viewed with suspicion by Israel. The EU is the largest donor in the Gaza Strip both in terms of humanitarian and development support. The bloc has also maintained a clear position on Israeli settlement building, deeming it a violation of international law and detrimental to the peace process.