EU plastics tax could help plug Brexit blackhole
Comments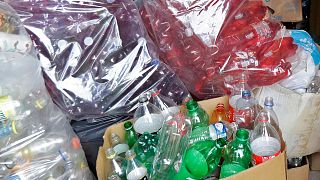 Plastic could be fantastic for the EU, as it looks for ways to plug a future gaping hole in its budget, left by Brexit.
Plans have been announced for a new bloc-wide tax on plastics, extra revenue to top up the Brussels bank balance. Although how it would work is unclear right now.
"We produce and use too many plastics which, despite recycling efforts, become rubbish which we cannot sell on global markets any longer in a way we used to do it in the past because of China," said, Günther Oettinger, EU Budget Commissioner.
And by China, he is referring to their ban on imports of plastic waste kicking in this month, which has caused widespread concerns about future recycling.
The EU stands to lose up to 15 billion euros a year because of Brexit – and new commitments need financing too.
It means pressure for countries to up their contributions, European Commission head Jean Claude Juncker saying the bloc costs taxpayers a coffee a day and it's worth more than that.
There will also be cuts.
"As far as the cohesion funds and agriculture are concerned, we will have to cut these programmes but I will try to make it as modest as possible in order not to damage these programmes," said Oettinger.
As the EU tries to balance the books, priority areas for financial protection include security, innovation and research and the Erasmus programme.