EU-Mexico: No trade deal for Christmas
Comments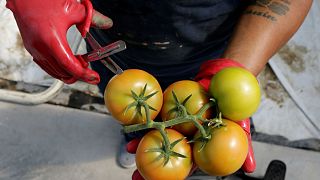 They had hoped to strike a preliminary deal by the end of the year. But, sticking points remain over an upgraded EU-Mexico trade agreement. A Mexican delegation, including the country's finance minister, has been in Brussels to try and iron out the creases.
But the wrinkles are still there.
"Roots of origin are complicated because we come from different systems," said EU Trade Commissioner Cecilia Malmstrom, "but we have done a lot of work to try to find compromises to understand each other's system here."
Trade relations with Mexico are nothing new. A basic deal has been in place for years, but the new version would open up sectors such as agriculture.
And it is food that is causing problems – Mexico finding EU brand protections for things like Italian mozzarella cheese difficult to swallow.
It all comes as Mexico looks for new friends, with US President Donald Trump re-thinking the North American Free Trade Agreement, or NAFTA.
"They (Mexicans) are now in a very difficult situation in the sense that if Trump decides to pull America out of NAFTA and perhaps collapse the entire NAFTA agreement, Mexico needs to find new trading partners in different parts of the word that can compensate for losses that Trump is going to incur," explained Fredik Erixon, from the European Centre for International Political Economy.
There will be crucial talks on NAFTA in Montreal in January.
In the meantime, the EU and Mexico will try to get over their differences, wrapping up a modernised trade deal that is now too late for Christmas.