Energy ministers debate EU's clean future
Comments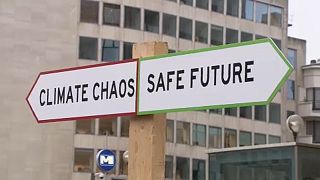 Environmental campaigners have been out in force in Brussels, calling for a firm commitment to green energy, as EU ministers try to agree a general approach on the clean transition.
The European Commission's 'Energy Union' 2030 package – pushing for more renewable use and a cutting of fossil fuel subsidies – has been up for discussion.
But activists say there's some reluctance.
"I think they are many utilities (companies) in Europe that also know, deep down, that they will also have to move to renewables, they want to go there but maybe not so quickly," said Tara Connolly, from Greenpeace.
"Some may accept that in 30 or 40 years they will have to move there, but they do not want to do it right now and that is really what is holding back a lot of EU energy ministers."
There is a target of 27 percent of energy coming from renewable sources by 2030. But divisions run deep over this: campaigners say it's not high enough, while some countries think it's too ambitious.
"What matters is that three key stages are set and that's what we'll defend, to achieve these goals. In relation to subsidies, we don't want the European taxpayer to ultimately, indirectly finance plants that are emitting a lot of CO2," commented Brune Poirson, French Environment Secretary.
The energy discussions don't stop here. Feisty talks with the European Parliament are expected early next year, when members will debate the way forward.