Catalan separatists protest in Brussels
Comments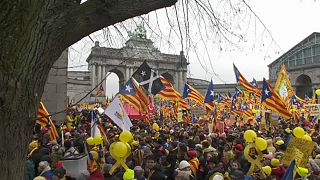 Thousands of Catalan separatists descended into the streets of Brussels on Thursday in protest at the EU's response to a disputed independence referendum.
The city's police force put the number at some 45,000 people.
Pro-independence campaigners said they wanted to the European Union to take a tougher line with Spain.
Madrid invoked a never-before-used constitutional article to suspend the regional government in Catalonia back in October.
The central government also called fresh regional elections for December 21st, which ousted leader, Carles Puidgemont, is a candidate for.
Puigdemont, along with four other officials, plans to stay in Belgium for now, despite a European Arrest Warrant against him being dropped.
"Is there any place in the world that holds demonstrations like this to support criminals?" he told protesters outside the European Commission headquarters.
"So maybe we are not criminals. Maybe we are democrats?"
Frans Timmermans, the European Commission's number two, insisted that the row betwen Barcelona and Madrid remains a Spanish internal matter.
"If you do not agree with the law, you can organize yourselves to change the law or the constitution," he said. "What is not permissible under the rule of law is to just ignore the law."
Pro-independence parties ignored a court ruling banning their planned referendum, which drew a heavy response from Spanish police.
They claimed that 90 percent of those who cast ballots backing splitting from Spain, but that figure has never been independently verified.
The Spanish government said the vote was unconstitutional.