Puigedemont extradition judgement date
Comments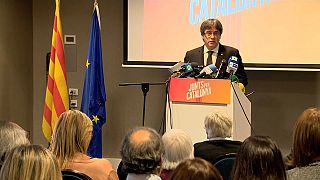 Judges in Brussels have made a statement saying that they will rule on whether to extradite the dismissed Catalan president Carles Puigdemont on the 14th of December. They are taking the maximum period allowed to deliberate for 10 days.
Defence lawyers argued the case for Puigdemont on two fronts.
They said that the Spanish justice system is politicised and it would be impossible to have a fair trial if he were returned to Spain.
"In the event that the extradition is carried out, there are not enough guarantees that in Spain they can have a fair trial with all the guarantees required by international law and which are required by European standards in this regard";
The second argument was more around the legal technicalities, affirming that the supposed crimes in Spain do not have an equivalent in the Belgian penal code and therefore cannot be enforced there.
The verdict of the Belgian justice will be known before the Catalan elections. But the defence can appeal the judgment. And that implies that the electoral campaign of Carles Puigdemont will continue to develop in Belgium.