EU looks to toughen clean transport targets
Comments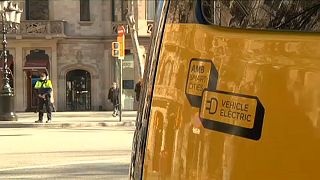 Cutting CO2 emissions, getting more of us to go electric. That's the aim, as the EU proposes new targets for cars and vans, amid criticism that it's not going far enough with its green goals.
In 2030, CO2 emissions will have to be 30 percent lower for new vehicles, compared to 2021, says the European Commission.
It hopes it will stimulate new technologies and get manufacturers leading the way.
"As of 2030 more than 70 per cent of our energy in Europe will be produced by renewables, so we will have the clean energy to power the clean cars, and that's, I think, what we are aiming for because it's a true transition, the true fundamental change," said Maros Sefkovic, European Commission Vice-President responsible for the Energy Union.
Companies describe the proposals as too ambitious. The European car-makers lobby ACEA said the 30 percent target was "overly challenging."
But one campaign group, Transport and Environment, says the plans are a "gift to car-makers" and fail to tackle Europe's biggest climate problem. It welcomes a goal of 30 percent of sales being zero emission vehicles in 2030 – but says a failure to apply penalties makes it largely ineffective.