EU discusses tax haven blacklist
Comments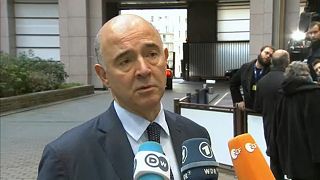 EU finance ministers are set to discuss setting up a blacklist of worldwide tax havens, in the wake of the so-called "Paradise Papers" leaks.
The trove of financial documents, from an offshore law firm, have already been sparking questions in Brussels.
"These scandals shock public opinion, they show that there are still businesses or wealthy individuals who are willing to avoid paying the taxes they have to pay," commented
Pierre Moscovici, EU Economic and Financial Affairs Commissioner.
"It also helps to raise awareness, particularly among the Member States, that progress must continuously be made in the fight against fraud and tax evasion."
EU countries have long been planning to agree a tax haven blacklist by the end of the year. But the new revelations are thought to have brought discussions forward.
"I wish this list to be published quickly, we said end of the year 2017. This context requires us to go even more quickly," said Moscovici.
"Second, I want this list to be credible. And third, I want to see firmness. Firmness assumes that when there are serious defaults, and we can see them, there must be appropriate sanctions."
The EU has looked at several measures to crack down on tax avoidance in the past. But the definition of a "tax haven" varies greatly across the bloc.